When São Paulo-based fertility clinic, PAIH's website was announced the winner of the Medical Standard of Excellence Award at the 2017 WMA WebAwards, it was the taste of sweet success for WSI Digital Marketing Consultant in Brazil – Rodrigo Arruda and his team! The WMA WebAwards is a standards-defining competition that is held annually by the Web Marketing Association and sets industry benchmarks for excellence in website design. WSI has been participating in this competition since 2007 and has consistently won awards each year, achieving 75 awards in total so far.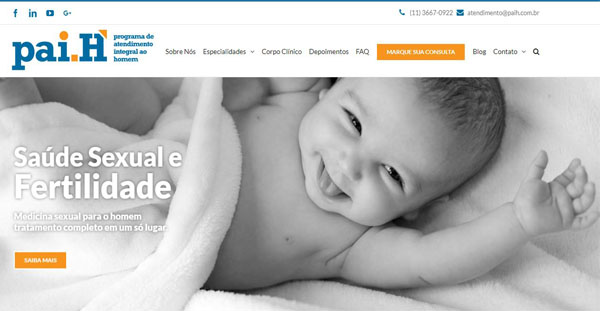 When the client, Dr. Marcelo Vieira of PAIH, approached WSI to rebuild the clinic's digital presence from scratch, it signaled the beginning of an interesting journey for the team. The main mission of the clinic was to treat couples with fertility problems. The client wanted to communicate to its patients the alternative treatments that were available in a transparent and clear manner. PAIH also wanted to increase their positioning in organic search and start attracting more visitors to its website. They wanted a full suite of digital marketing services including:
Identifying their target persona
Structuring their information architecture
Creating their profiles in various social network
Writing optimized content
Conducting paid campaigns
Building excellent website
However, the biggest challenge with this project was that the client operated in the medical industry, that has a number of strict government regulations that have to be considered at all points of project delivery.
The WSI team managed to surpass those challenges very successfully. When the new website was launched, the results the client received were extremely rewarding. Within the first three months of the new website going live, five of its main keywords earned a #1 position in organic search. Additionally, PAIH's client sessions generated them an average of 30k per month, reflecting a 76% increase.
A very satisfied Dr. Marcelo Vieira, PAIH, had no hesitation in commending WSI for its excellent work. "If your web builder acts as a real partner, it's a real bonus. I had the opportunity of meeting WSI experts…represented by Rodrigo de Camargo Arruda and his team who gave me all the orientation and support that I needed to build my website. After almost a year of working together, we were chosen as one of WSI's entry for the WMA WebAwards, and we're glad we ended up as one of the winners. Congratulations to WSI, Rodrigo and his team for their excellent job, professionalism, and partnership."
Rodrigo Arruda is ecstatic as well – not only does he have a satisfied client, but he also has an award that validates the outstanding quality of digital marketing service WSI provided to PAIH. "We started the PAIH project trying to give our best, using the principles we have learned from WSI along with some knowledge management practices. We also constantly worked with our suppliers to deliver the best result for the client".
Rodrigo is thrilled with the bragging rights that the team has earned with this award. And, of course, the new leads and recommendations he is getting as a result of this success story has given him much to look forward to in the future. He is hopeful, as we are, that the completion of this successful client journey is the beginning of some other equally great ones.
To check out all of our 2017 WMA award winning projects, watch our video below. To speak to a WSI expert in your region, contact us today.
WSI WMA Web Award Winners 2017 from WSI World on Vimeo.

This post was originally published in https://www.wsiworld.com/blog/paih-wsi-wins-medical-standard-excellence-award-wma-webawards/
Author: Monpi Neog Lobo loves fiction, beer, and her job. She is the Content Marketing Specialist at WSI.