Company Brings Home Nine Standard of Excellence Recognitions and the Best Real Estate Award 
Toronto, Canada, September 12, 2018 – WSI, the world's largest network of Digital Marketing Consultants is proud to announce that it has won nine Standard of Excellence Awards and the Best Real Estate Award in the 2018 WebAwards organized by the Web Marketing Association (WMA).  The company has won multiple awards every year since it started entering the competition in 2007. With this year's ten awards, WSI is now the proud recipient of 85 WMA Awards in total. WMA announced this year's winners on September 11th, 2018.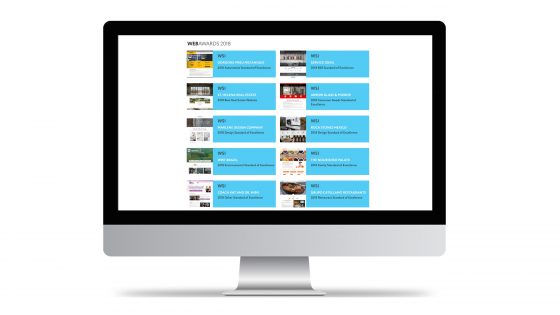 WSI's 2018 winning entries included:
Congratulating the winners, Valerie Brown-Dufour, President, WSI, said, "This is a proud moment for the entire WSI network. We submitted ten nominations in 2018, and all ten have received a WMA WebAward. What is this, if not a validation of the quality of work that our Consultants and Agencies produce for each of their clients, irrespective of industry and location? WSI's projects have braved competition that's gotten tougher every year and technology that is advancing at such neck-breaking speed to bring home this remarkable honor! My heartiest congratulations to all of you. You truly exemplify the values that WSI stands for!"
The WMA WebAwards is a prestigious annual website competition that has been setting the international standard of excellence for Internet marketing and website development since its inception 22 years back. Entries received across 96 industry categories are judged on design, copy writing, innovation, content, interactivity, navigation, and use of technology by an elite group of industry leaders committed to raising the standards of excellence of web development on the Internet.
About WSI
WSI is the world's largest network of Digital Marketing Consultants with its head office in Toronto, Canada. WSI Digital Marketing Consultants have helped over 100,000 businesses with their online marketing strategies. By using innovative Internet technologies and advanced digital marketing tactics, businesses can have a WSI Digital Marketing Plan tailored to their individual needs and help elevate their Internet presence and profitability to new levels. In 2018, WSI received 10 Awards at the Annual WebAwards organized by the Web Marketing Association (WMA), bringing their total WMA Award tally to 85.
This article was originally published in https://www.wsiworld.com/blog/wsis-success-wma-webawards-continues-10-awards-2018/