"Social media is the ultimate equalizer. It gives a voice and a platform to anyone willing to engage." – Amy Jo Martin
It's true. As of 2018, there are more than 3 billion people around the world using social media each month. Because of the vast audience available on social networks, digital marketers have dived into social media branding and marketing, sharing content, sponsoring social ads, engaging with followers and more. Marketers put in all of this effort, but if a social media strategy is disjointed from the rest of the digital marketing strategy, it can mean a lot of spinning wheels with not much impact.
The key to syncing your social media with your marketing strategy is to understand its role in each phase of the inbound marketing funnel. Let's discover where social can pack a punch within the buyer's journey.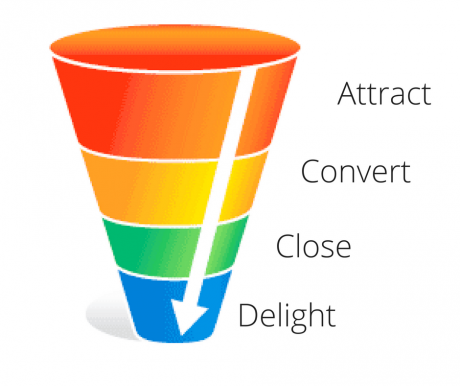 Attract
These days, buyers have more control of their journey, and so you'll want to attract rather than disrupt your ideal buyers. Social media plays a huge part in this phase of the inbound funnel.
Relevant and Authentic Social Content: Social media is a great way to make initial contact with your target audience. By producing relevant social content, you'll attract followers who will someday become your customers.
To succeed in attracting your desired audience, you must post consistently and remain active. Hashtags and keywords make it easy for new followers to find you. The content you share should be focused on the subject matter that interests your audience, so they'll stay engaging with you. For example, Netflix's Twitter posts about video content, new shows, films, the Oscars, etc.
Furthermore, authentic content is a surefire way to earn your followers trust: 91% of customers want brands they follow to be authentic in their social media posts, according to a study by Bonfire Marketing. One highly effective way to convey brand authenticity is to post ephemeral content, like Instagram stories and Facebook stories and live videos. Not only does ephemeral content encourage views because of FOMO (fear of missing out), but the raw clips and footage also conveys a spur-of-the-moment authenticity that excites and attracts followers.
Paid Ads: The effectiveness for the top five paid advertising methods used by B2B marketers are SEM (55%), promotional posts (48%), social ads (45%), print or other offline promotion (31%), and traditional online banner ads (29%). And plenty of marketers are aware of the success of social ads. Did you know that the U.S. social media advertising revenue is estimated to increase by more than 194%, to reach $15 billion in 2018?
This underscores the fact that a huge portion of your audience is available to you on social media networks. Your leads are right there, you just have to reach them.So when you create targeted social ads, you're dramatically increasing brand awareness as well as encouraging site traffic. For more info on paid social ads, be sure to check out this great article from Hootsuite.
Convert
After you've established a relationship with a lead, you'll want to continue to nurture that relationship to help them move further along in their journey.
MOFU/BOFU Content: Once a lead follows you on social media, you'll want to ensure your content encourages them to move further down the funnel. Ideally, you'll include content that appeals to buyers who are in the MOFU and BOFU phase. (As a quick review, TOFU stands for "Top-of-the-Funnel," MOFU stands for "Middle-of-the-Funnel," and BOFU stands for "Bottom-of-the-Funnel.")
For B2B, it's a good idea to share helpful content like white papers, guides, infographics and case studies. If you think about it from a buyer's perspective, they're looking for more information to help them decide on whether to move toward a purchase.
Reviews: Review sites are a common way for buyers to evaluate a product or service. Customer opinions about your brand is a major deciding factor in whether a lead will convert. By incorporating reviews into your social strategy, you can help move your prospects along the funnel.Here's some great advice on leveraging reviews within a social strategy from Forbes Contributor Steve Olenski.
"Consumers love to read reviews. Posting them on your Facebook page, tweeting them and adding them to other accounts boosts engagement from shoppers, encouraging them to buy.
As tempting as it is, you don't want to respond only to rave reviews. If you do, you won't look believable. Choose a few that are in the two- and three-star range. Show your visitors how you fixed the problem mentioned in the review. And at the same time be sure to thank the reviewer for his honest comments. The more authentic you are, the more engagement you will get. Visitors are positively impressed by honesty. It builds credibility, loyalty and sales."
Close
Once you've nurtured your prospects, eventually they'll reach the decision point. Hopefully, you'll make the sale and they'll become a customer. Here's the role social media can play in the "close" stage.
Special Offers
Promoting special offers on social media is a great way to motivate a lead to close. To encourage fast action, put a time constraint on a special offer. Or you could also offer an incentive to purchase sooner rather than later (like a discount or a free trial).
Email Signups With Gated Content: If you want to capture a prospect's email when they're getting close to a decision point, share gated content. You could share a free eBook, white paper or another piece of BOFU content, or you could also combine a special offer with your gated content. For B2B marketers, eMarketer analysis shows that white papers, webinars, and case studies are generally most effective. 
Delight
Social media is crucial for the "delight" phase of the funnel. The buyer's journey isn't over once a sale has been made. You must continue to "delight" your customers so that they advocate for your brand. Here's how:
Engage With Your Customers on Social: If you have loyal customers who follow your social profiles, why not take time to interact with them there? It's just another way to show you care about your relationship with them. Continued positive social engagement with encourage advocacy on behalf of your brand.
Set Up Social Groups/Communities: Setting up Twitter chats or Facebook and LinkedIn groups for your customers is an excellent way to delight customers. In these groups, you can answer questions, promote new products or services and keep the conversation alive around your brand.
This post is originally published in https://www.wsiworld.com/blog/sync-social-media-inbound-marketing-strategy/
Author: Olivia Williams
As a copywriter, Olivia creates content and brainstorms marketing initiatives at SharpSpring. An avid reader and writer, she brings creativity and top-notch communication skills to the marketing team.