Want more positive online reviews for your business? The recent webinar hosted by WSI's Carlos Guzman covered online reputation management and, ICYMI, you can view it here.
WSI Digital Marketing Consultant, speaker, and author, Carlos Guzman held CEO positions in technology companies for nearly 20 years before joining WSI in 2004.
Why is Online Reputation so Important?
More than ever, consumers (both B2C and B2B) are consulting online reviews and ratings before deciding where to spend their hard-earned dollars because they trust online reviews. Not only that, 97% of shoppers who read online reviews from other consumers also read the business responses, which means that not answering or acknowledging the reviews is a bad strategy.
The challenge of online reputation management lies in the time, resources, and technology budget needed. Many of our clients ask, "Where do I start?"
Reputation monitoring and reputation management are key to building trust and credibility around your brand – directly impacting your revenues. Simply put, your online reputation can be your biggest asset if managed well, and if not, it can also be your worst liability.
Three by Three
It's as simple as one-two-three!
Starting with the three-step process of reputation monitoring and management: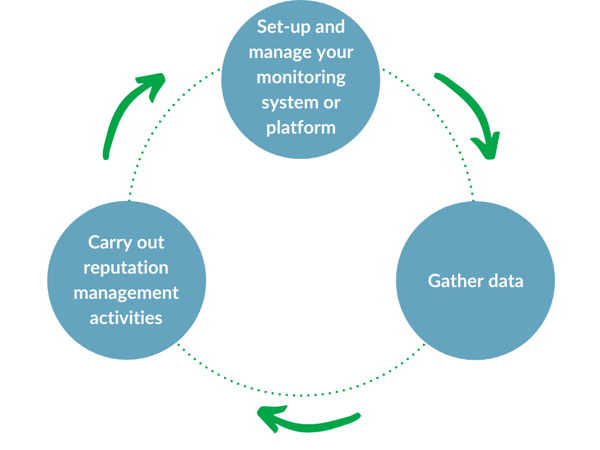 Set-up your monitoring system or platform
Gather data
Carry out reputation management activities
And repeat
Then there are three ways to approach online reputation management (ORM):
Social listening tracks mentions of your brand, service, or product on open social networks, blogs, micro blogging sites, news sites and forums.
Review monitoring uses specific review sites like Google, Angie's List, Better Business Bureau, Yelp, TripAdvisor, and so on.
Search results monitoring is where you check search engine (predominantly Google) results for brand mentions. To manage your reputation in Google, you need a good SEO strategy.
What Tools Monitor Online Reputation?
Theoretically you can manually search for your brand's name on search engines or social media sites, but because the number of channels and internet users is enormous, there are tools to help you efficiently monitor your online reputation.
Choose technology that can:
Tally the volume of mentions or reviews
Measure the sentiment or score.
Establish sources and cloud terms.
Identify influencers.
Contact your local WSI Consultant for advice on the best tool for your needs.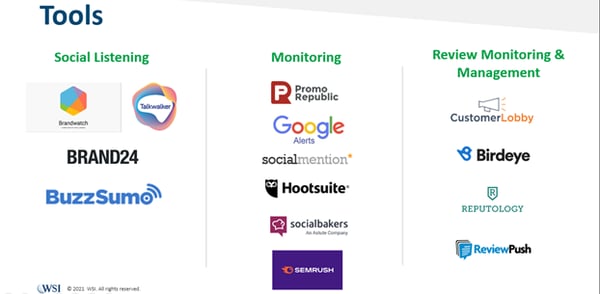 How to Respond to Negative Reviews
First, what not to do: ignore reviews, even the bad ones! The stats speak for themselves:
While 94% of consumers say that a bad review has convinced them to avoid a business,
44.6% of consumers say they're more likely to visit a business that responds to negative reviews.
Additionally, 40% of consumers expect brands to respond within the first hour of reaching out on social media, while 60% expect a response in the first 24 hours.
Because the public finds exclusively glowing reviews a tad suspicious, negative reviews actually increase your credibility. Harvard Business School found that consumers like to see a mix of good, moderate, and bad reviews when trying to determine if a business is trustworthy.
That's the why, now for the how. Prepare for negative reviews by:
Responding promptly.
Assigning the reviewing job to someone specific.
Publishing an internal response policy.
Empowering the people whose job it is to respond.
Have a tracking system that assures all negatives are addressed.
How to Elicit Positive Reviews
While responding to positive reviews may be easier, never pass up the opportunity to say, "Thank You!" for the unsolicited feedback. Encourage the happy customer to return, and mention other products or services that they should try.
Reinforce the positive by sharing the compliment with your team… and the world.
Key to ORM is advocating positive reviews. Here are some tips:
Monitor your brand to determine your baseline.
Design a user-friendly website.
Showcase your expertise with a blog.
Be active on social media.
Prove that you are accessible by replying to every question or opinion.
Share your achievements and awards.
Keep your content simple.
For more insight or assistance on how to grow your business with online reputation management – or any other digital marketing strategies – contact us today. You can watch the full webinar presentation below:
About the Author – Cheryl Baldwin
Marketing Executive with substantial expertise and knowledge of the digital marketing landscape. Experience in inbound marketing, content marketing, social media, website management, communications, and digital advertising.