By now it's no secret that marketing and technology go together like gin and tonic. (Or mustard and ketchup. PB and J…you get the idea). They're a duo. Naturally paired together to enhance the overall experience. Nowadays, it's damn near impossible for marketers to perform without the right tools and technologies in their arsenal. The marketing world is non-stop and there are literally thousands of tools and innovations that were designed to help you automate and simplify your marketing efforts.
One of the more jarring tasks of many businesses I've worked with is selecting from the vast pool of tools to use. This is where having a marketing technology stack becomes fundamental to your business' marketing strategies.
But what is a marketing technology (aka 'martech') stack and why does your online business need one? Let's discuss and break it down:
What is a Marketing Tech Stack?
This is marketing jargon that you will definitely hear more of if you haven't already. Essentially, a marketing technology stack is exactly what it sounds like: it's a group of tech-based tools that marketers and businesses use to improve their marketing activities. But it's more dynamic than merely using several tools individually for their own siloed purposes. Instead, marketing technologies are 'stacked' to create an integrated series of tools that allows you to build seamless customer relationships across several different channels.
Not only will the right martech stack iron out your processes, but it should focus on the impact of your marketing activities and drive more efficient marketing spend.
Why should I invest in a Marketing Technology Stack?
Like I said earlier, the martech space is made up of thousands of online tools and technologies. The sheer amount of vendors offering the latest and greatest in marketing innovations is overwhelming. Just take a look at ChiefMartech's latest edition of the marketing landscape for 2020, with over 8,000 solutions to choose from. (For some perspective, ChiefMartech reported only 150 solutions just 10 years ago!)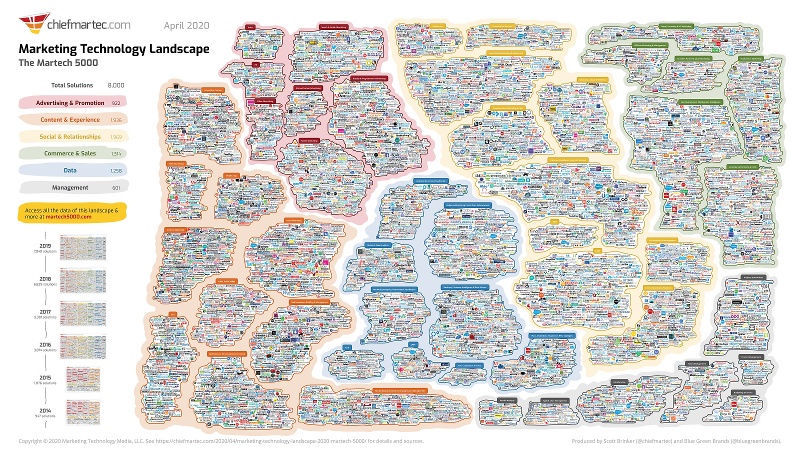 Put simply, the martech space is colossal. And marketers are pressured to keep up with the growth. According to Korn Ferry, "27% of CMOs were concerned with staying ahead and taking advantage of digital technology trends."
With thousands of solutions to choose from, it's vital for marketers and business owners to understand how the right tech stack will impact their businesses and which technologies will be fundamental to reaching their goals.
What Elements Make A Great Marketing Tech Stack?
First of all – as with other areas of your marketing strategy – one size does not fit all when it comes to building the right martech stack for your company. Your chosen technologies will be impacted by factors like your budget and the type of business you have. One key factor to consider is your target market; for instance, B2C companies will likely require slightly different technologies than a B2B company since they each typically use different channels and techniques to acquire and engage with their customers.
So let's take a look at the technologies I consider foundational to a tech stack, regardless of your target customer.
Customer Relationship Management (CRM): this is often a focus for you B2B-ers. CRMs track all customer relationships and marketing attribution for you and your sales force. Ultimately, CRMs are essential to gaining in-depth insights of how your marketing efforts impact your sales pipeline.
[Tools to explore: Salesforce; HubspotCRM; SugarCRM].
Content Management System (CMS): by now, for most of you, this is a basic element of your tech stack that you're familiar with. A CMS is the technology that powers your website, blog, landing pages etc. These web properties are often where you want to engage your customers.
[Tools to explore: WordPress; Hubspot; Joomla].
Advertising and SEO: this element is pretty vast, but search engine optimization and advertising is key to your customer acquisition strategies regardless of the type of business you run. Many marketers use a combination of software for keyword research, display ads, ad tracking, and attribution.
[Tools to explore: SEMrush, Google Ads; HasOffers].
Email: Email marketing is still a very cost effective way to support sales, build brand awareness and gain trust with your customer base. Email marketing capabilities might even be readily available in other platforms in your tech stack; like in your marketing automation or inbound marketing platform, for instance.
[Tools to explore: MailChimp; Constant Contact; SendGrid].
Social Media: technologies for this space help monitor your social conversations, schedule posts or curate content. Specific networks like Facebook and LinkedIn also offer social media marketing opportunities that may be a valuable addition to your own tech stack.
[Tools to explore: BuzzSumo; Hootsuite; SproutSocial].
Collaboration: these are some of my favorite tools to add to a tech stack. Collaboration software focuses on working efficiently and transparently with your team. There are a number of project management tools to choose from, or even tools that focus more on the customer journey.
[Tools to explore: Trello; Asana; Slack].
Analysis and Reporting: regardless of the technologies you choose to integrate with in your tech stack, you must always be able to access your data to measure your marketing efforts. For the most part, businesses will at least have basic website analytics tracking in place, which is a great way to start. But depending on your situation, you could explore building a full data warehouse to pull together data from various systems to make your reporting more accessible and rounded.
[Tools to explore: Google Analytics; KissMetrics; HotJar].

2021: How Your Marketing Tech Stack Needs to Change
Your marketing technology stack is critical to your organization's success. It enables you to manage your brand efficiently, coordinate and execute campaigns, leverage existing content, and attract and convert customers in an increasingly complex marketing environment. However, putting together the right set of tools and technology may be extremely challenging. With so many competing options, features, and interoperability concerns to consider, piecing together your martech may feel like navigating a minefield. However, the right marketing technology can make all the difference when it comes to the behind-the-scenes task of managing your brand and marketing operations.
Instead of a shiny penny approach where marketing leaders are trying out every new tool that emerges from the market, businesses focus on creating tech stacks that are smarter, more streamlined, increasingly connected, and dramatically more powerful. Here is what you need to know about marketing technology to lay the foundation for smooth brand management and marketing operations.
Top Marketing Tech for Your Business
Whether you are a B2B or B2C marketer, there is no doubt that you have struggled with lead generation. Both landscapes are increasingly competitive, and lead generation can pose one of your biggest challenges. However, lead generation starts with traffic, and there is an entire collection of tools you can use to help you take care of just that.
#1. From siloed tools to all-in-one solutions
As more marketing channels emerge, marketing teams will continue to specialize rapidly. However, more channels mean more to coordinate and manage. As individual disciplines branch off, marketing teams risk building unintentional silos that may ultimately undercut efficiency and brand consistency. All-in-one solutions consolidate and may eliminate the need for disparate point solutions. They are also powerful for aligning cross-functional teams—like marketing and sales—to work together in harmony with greater speed and efficiency.
#2. Tools that connect and interact well with one another
As the need arises, API-first tools empower businesses to add, remove, or swap out solutions with greater ease. Of course, APIs fuel the free-flowing exchange of data between tools, systems, and channels—another area that is top of mind for marketing leaders for the year ahead. This step-level for your marketing tech stack is all about connection. You need to merge it, find patterns, and learn. As marketing becomes more omnichannel driven, channels and software islands need to be connected through API integrations and data warehouses.
#3. Leveraging data to create personalized customer experiences
Businesses focus on creating increasingly personalized experiences for their website visitors and customers. They invest in improving data pipelines to trigger powerful, real-time experiences and communications between prospects and use existing users with sales teams based on visitor, user, and company information or activity. By planning to leverage data-rich tools to better understand the customer and their journey, businesses can deliver more tailored content and experiences to the right customers at the right time.
Strategy First, Technology Second
Keep in mind that a tool is not a strategy. It may allow you to compare different software packages by their features; however, the real value marketing software offers lies in the strategy and approach it enables and how it affects customer experience (the desired end-result). Before you build or update your marketing stack, it is crucial to devise your marketing strategy. This approach should be shaped around your product, desired audience, and how to reach them. Analyze your current marketing practices carefully and identify where they match the strategy and where they block it. Do the work, map your plan, and only when you have a defined need should you consider purchasing something new. Find out where you lack processes and where you need to do things differently and then choose technology based on that. Mapping out this process will give you a better understanding of the required tools needed for your business. Martech is all about devising the right strategy for your business and only then identifying the technology that will help you execute on that strategy.
Beyond the Fundamentals of a Marketing Tech Stack [with recommended tools]
The type of business you have will determine which technologies you might find important and how they should be organized. That said, there are certain technologies you should consider as foundational to your marketing technology stack as you build it. Your marketing stack can be broken down into three key stages:
Stage 1: Attract
Stage 2: Engage
Stage 3: Analyze and optimize
Although there are multiple sub-phases within the above, these three are the most common phases almost every business can relate to.
Google Ads – ad tech
When it comes to driving qualified traffic to your website, Google's search, video, and display ads are the quickest way to get the results you need. Not only can you target people who show a specific interest in what you are selling, Google Ads acts as your first point of contact for lead nurturing tactics like remarketing, email marketing, and conversion optimization.
Demandbase – ad tech
Demandbase enables businesses to deliver personalized online ads to specific people at specific companies across the web while refining the message to convert them into customers.
Unbounce – landing page builder
There is no point in spending hours creating targeted ads only to send prospects to a generic, soulless landing page, as this is one of the quickest ways to lose potential leads and sales opportunities. Unbounce lets you quickly and easily create custom landing pages that will help convert more website visitors into customers. You can create and publish landing pages in minutes—with no code required. The powerful A/B testing functionality allows you to experiment with your messaging, design, and forms to understand the best ways to convert visitors.
Sprout Social – social media management
Sprout Social allows you to manage your entire social media marketing strategy from one place. It can help you attract and engage with hundreds of thousands of customers and prospects. With Sprout Social, you can streamline your publishing workflows, schedule posts at optimal times, and turn social data into meaningful insights. All of this is geared towards optimizing your social media strategy and better connecting with your audience.
Marketo – marketing automation
Marketo allows users to automate their marketing processes like identifying top prospects, creating personalized campaigns that scale, and finding and connecting with the right customers. It is probably overkill for a smaller business. However, if you are moving from a startup to scale-up, Marketo is ideal for those looking to grow and market to a larger audience with a high degree of segmentation.
HubSpot – marketing automation
The breadth of the HubSpot platform is incredible. Its products run the gamut from advertising, blogging, SEO, email, social media, call-to-action, and beyond. This low-cost, or free in some cases, platform is particularly popular with small businesses who cannot afford the wealth of software options that other more mature companies can.
Outreach – sales engagement
Marketing teams have always been good at generating and nurturing leads. However, they might not always be that great with handing those leads over to sales and making sure they are acted on. They often have little insight into whether reps have, in fact, advanced inbound leads or not. Outreach is a type of tool for teams who are serious about sales and marketing alignment. It tracks your reps' interactions with prospects and customers and recommends prescribed sequences of communications based on that. Instead of logging marketing into one system and sales into another, both teams can use Outreach's dashboards and tools, making sure no leads fall through the cracks.
Aircall – cloud calling
Every marketer knows that if given only five minutes to show the product to all new users and answer their questions, they would nail their monthly recurring revenue targets. The problem is that setting up so many screen-shares each day is a tooth grinding process. Aircall allows you to start a phone call instantly from pretty much every major software system out there. Getting visitors from chat into a face-to-face demo can all be arranged automatically in a matter of minutes to speed up the sales cycle drastically.
Tableau – business intelligence
Business intelligence (BI) software is an increasingly powerful tool in a marketing team's arsenal, as it allows teams to track every dollar and every movement throughout the marketing funnel. However, the real power comes in connecting multiple data sources to gain invaluable insights, otherwise lost. Tableau is recognized as the cream of the crop for its visual-based data analysis. Their data visualization is head and shoulders above what traditional BI vendors offer. You can perform reasonably complex data visualization in a very intuitive, drag-and-drop manner, so your team does not need to be fiddling around with SQL and so forth.
LeanData – lead management
Conversions are not a nice, neat, and organized path from point A to B. The conversion process is often more like a winding road of intersections, tangents, and loops that involve an entire host of marketing touchpoints. To understand your marketing program's real ROI, you need to know which individual components got measurable results. Without these, it is all too easy for marketers to invest in under-performing marketing channels that yield inadequate pipelines and revenue. LeanData connects with your Customer Relationships Management (CRM) to provide the most accurate, channel-by-channel view of your campaign performance so your team can decide how to spend money in the most effective ways. Different marketing attribution models may suit different business needs depending on the buyer's journey length and complexity. LeanData features fully customizable attribution models that can be finely tuned to your business.
Optimizely – conversion rate optimization
Optimization and experimentation need to be a crucial part of any marketing strategy in 2021. Optimizely allows you to create variations of your existing website with multivariate, multi-page, or A/B tests and then tracks how customers respond to the different versions. The best part is that it is absurdly easy to use. You do not have to code anything to adjust your website with this tool. Optimizely has a visual editor that allows you to make changes by clicking instead of coding, which is perfect if you do not have a full-time development team at your disposal.
WordPress – CMS
WordPress lets users build everything from blogs to full-blown websites with hundreds of themes to choose from. Better yet, WordPress makes building a website accessible to anyone—even people who are not developers.
Ahrefs – SEO
Ahrefs is a suite of SEO tools that help websites, blogs, and companies do in-depth research on their competitors, grow their search traffic, and monitor their niche. What keywords or topics should you be trying to rank for? How many links do you need to build to rank for your chosen keywords? Ahrefs allows you to do all that and much more.
Zoom – webinars
Conference calls and one-on-one meetings are Zoom's bread and butter, but it is also a fantastic tool for hosting webinars that will drive people to your website. Zoom provides a useful, easy, and effective way to hold webinars as it hooks into your CRM very nicely, and the video quality is unparalleled. The user experience for the business and participants is next level.
Madkudu – lead scoring
Marketing teams are not just responsible for filling the sales pipeline with quantity, but quality as well. There is no point in attracting hundreds of leads who would never be a good fit in the first place. Lead scoring is one of the best ways to guarantee that the leads they hand over to sales are of high quality. Madkudu is one of the most powerful lead scoring tools available and helps you calculate tons of valuable information, most of which is not visible to your sales team. Beyond only job titles and employee count, Madkudu can evaluate the predicted: revenue of each company; the size of specific teams; tech stack and tools a company uses; whether their solution is B2B or B2C; has a free trial; raised venture capital; and more, meaning your sales team can hone in on leads showing the best determinations of success.
Intercom – customer engagement and lead generation
Intercom's conversational relationship platform can serve as the backbone of your entire marketing technology stack. You can use it to send targeted messages to visitors on your website, build chatbots to engage qualified leads 24/7 on your website automatically, and CRM. Intercom's power comes through tracking and monitoring customer data so you can better understand your audience and properly serve them with the right content and messages. Intercom solves one of your biggest headaches when constructing your tech stack integrations. Even if a platform promises great results, it may do more harm than good if it does not integrate with the rest of your tools. Intercom has over 100 integrations with Google Analytics, Salesforce, HubSpot, and many more, so you can rest assured that everything will play nicely together.
Clearbit – data enrichment
Clearbit Reveal can be used to help de-anonymize website traffic. When a prospect visits the website, Clearbit uses its IP address to detect its company, industry, location, and the technology the company already uses. You can thus customize your communication with each individual and avoid those spray-and-pray tactics from years gone by.
Five Considerations for Your Marketing Tech Stack
As technology evolves, marketing tools become increasingly more granular. In the past, one tool could solve three different issues. But today's marketers need an advanced solution for each channel, task, and function. You will soon find that, with more tools, simple processes become complicated and inefficient. Now, rather than selecting tools based on price or feature set, marketers need to consider various factors before making their decisions. As this is much easier said than done, here are five important questions to ask before purchasing a new software:
1. Do you just want something new or will it deliver results?
At one point or another, shiny object syndrome has gotten the best of us all. Make sure you are not buying a tool just because it is new and exciting. Instead, consider the current tools you already have. Is there a way to reach your goals without using this technology? Do not buy a product just because you can. Adding another tool to your tech stack will only waste resources and add unnecessary stress to your team. Remember, more tools do not always mean better results.
2. Does this integrate with the tools I'm using?
The most important consideration to make when constructing your tech stack is integration. Even if a platform promises impressive results, it can do more harm than good if it does not integrate with the rest of your tools. A new website management tool may promise to double the number of leads you generate. However, if it does not integrate with your CRM, it may require four different people to move leads from one system to another. Not only will this cut into productivity, but the manual data entry will dirty your marketing database and require an additional tool for database maintenance.
3. Have I researched all my options?
Even if a tool checks all the boxes, it is still important to consider other options as well. You should do some more digging and check out some online reviews. There are many high-quality tools on the market, but even though one might seem like a good fit, it does not necessarily mean that another will not be better.
4. Do I have the skills and resources to operate this system?
It is important to buy tools that are easy to run using the resources you already have access to. Some of the best, most advanced technologies may turn into a full-time job. If you are a small team, going with a less sophisticated option will make more sense. Choose a solution that will help you reach your goals without too much effort.
5. Should other departments have input on this buying decision?
It is always considered best practice to share resources and information across departments, especially when purchasing a new tool. Without input from all stakeholders, you will not be able to make an educated purchase. Be sure to consult with all parties involved before handing over your credit card.
In Conclusion
Building the right marketing tech stack for any company is no picnic. It can be quite a gargantuan task. But it's all about integrating the right technologies together so they're working cooperatively instead of independently. Not only will you get a full, comprehensive view of your customer journey and marketing efforts, but you'll uncover how to optimize your hard earned marketing dollar.