Editor's Note: This post was originally published in October 2018 and has been updated with additional content on August 2021.
When Instagram Stories first launched in 2016, I thought to myself, "This is just a copycat of Snapchat". I doubted this new Instagram feature would be able to compete with Snapchat, because "Hey, Snapchat did it first, right?" Five years later, Instagram has leapfrogged its competitors by constantly innovating and introducing new features to keep users engaged on the platform.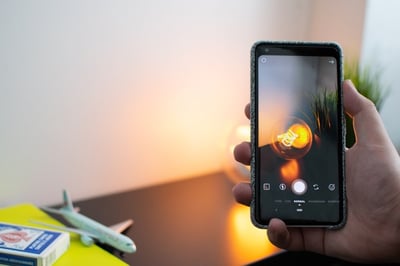 But why should businesses use Instagram Stories?
Firstly, Instagram Stories are a quick and easy way to engage with other users and followers. According to a study conducted by Microsoft, the average human attention span has dropped from 12 seconds to 8 seconds currently. Many people have attributed this drop to the proliferation of technology. The wonderful thing about Instagram Stories is that it caters to this generation of people with shorter attention spans since you can only post videos up to 15 seconds at a time. Secondly, the format of this feature is perfectly suited for mobile – you can post anywhere and anytime, making it super accessible when you're on-the-go. Unlike the original standard square format of Instagram posts, Instagram Stories are shot vertically. Thirdly, Instagram Stories disappear after 24 hours, so you won't have to worry if it doesn't fit your feed's overall theme.
Here are 4 reasons why businesses should tap into the engagement potential of Instagram Stories:
Instagram Offers the Ability to Post a Variety of Content
Instagram Stories gives you the freedom to post a variety of content. You can literally post anything you want, without having to worry about ruining the "theme" or "aesthetic" of your Instagram feed. Are you launching a new product or service? Do you want to give your followers an exclusive sneak peek behind-the-scenes of your office? Looking to have one of your employees do an Instagram Story takeover? Announcing the winner of your recent social media contest? From promotional photos and videos to more fun, lighthearted content, consistently posting a wide variety of original content will help keep your Instagram Story and brand fresh. Create content that will keep your followers coming back for more!
Instagram Helps Businesses Grow An Audience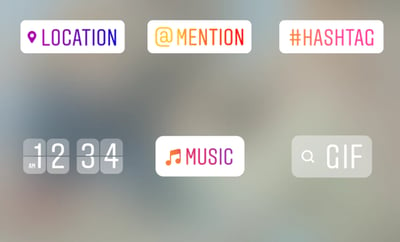 As a business, you should never stop looking for new ways to grow your audience. At the beginning when you are deciding which social media platform is right for your business, one of Instagram's strengths to consider is that it helps businesses increase brand awareness. Over the years, Instagram has introduced a number of features to help brands and businesses reach a wider audience.
Use location tags. You can include geographic location tags on your Instagram Stories now to make your business or brand more discoverable locally and globally. Whether you're tagging a specific location, a city, or even a country, it is an effective way to reach different demographics.
Include hashtags. You can also include hashtags in your Instagram Stories to increase the searchability of your profile and its content among the Instagram community. Just like how you can include hashtags in the caption or comments of regular posts on your Instagram feed, you can also do the same with your Instagram Stories.
Instagram Allows Businesses to Engage With Their Audience Regularly
Millennials make up a vast majority of users on Instagram, and keeping this generation engaged takes time, commitment and effort. It's important to understand how to communicate with millennials in order to effectively engage with them on social media. Lucky for you, Instagram recently rolled out new Instagram Story features, allowing you to:
Set up a poll. Setting up polls on Instagram Stories encourages audience interaction and helps increase engagement. It's also a great way to gather information and to see what your audience and followers like (or don't like).
Ask questions or let your followers ask you questions. The new "Ask me anything" feature for Instagram Stories is another effective way to interact with your followers. You can either choose to ask your audience a question or let them ask you anything they want. The great thing about this feature is that your followers get to learn more about your business or brand, and in return, you get to learn more about your followers. It's a win-win situation!
Tag other people. Just like how you can tag other users on your Instagram posts in your feed, you can do the same with Instagram Stories. Tagging other businesses, brands, or influencers, increases the chances of your brand being seen. This is effective because when you tag others in your Instagram Stories, they have the option of reposting your story – ultimately, this helps maximize your reach.
Instagram Drives Traffic to Websites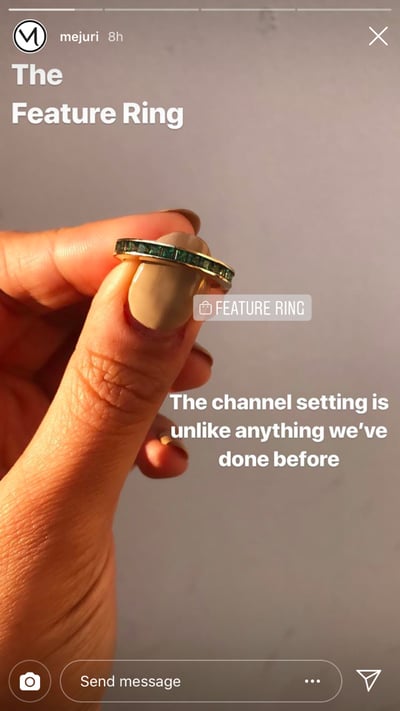 You can also effectively use Instagram Stories for your business by posting content that drives traffic to your website. If you run a retail or e-commerce business, you can direct followers to purchase your product(s) on your website. A recent study conducted by Facebook found that 1 in 3 Instagram users were more interested in a brand or product after seeing it on Instagram Stories. Earlier this year, Instagram rolled out this cool shopping feature for Stories, aiming to broaden its e-commerce push. This new feature enables businesses to:
Explore the shopping bag-shaped notification. This allows users to click on select items on your Instagram Story and shop the item(s) on your site. Instagram's product stickers help people access product information quickly and seamlessly.
Incorporate the "Swipe Up" feature. If you're looking to drive traffic to your website, using the "Swipe Up" feature on Instagram Stories is an avenue to do so. By incorporating effective and eye-catching CTA's (calls to action), you can incorporate this feature to direct followers to your blog, landing pages, and more!
Instagram Stories FAQs
Instagram Stories is an incredibly useful tool for your social media marketing once you have fully mastered all of its possibilities. Here are some of the most commonly asked questions about Instagram Stories and the possibilities it offers.
Who viewed my Instagram Stories?
Instagram Stories offers the advantage of being able to see exactly who has viewed your posts. Go to your story by clicking your icon at the top left of your feed, then swiping up. You will see an eye icon, next to which Instagram will tell you exactly how many have viewed your story – and exactly who. Only you can see who has viewed your story.
Are Instagram Stories public?
You can decide whether your stories are public or not by adjusting your privacy settings. If your account is private, it is accessible only to the people whom you approve. If it is public, everybody can see your story. Since you are using your account for marketing, you probably want your account to be public but you can adjust that according to your preferences.
How do I add audio to my Instagram story?
You can add music to your story in one of two ways. When you tap to add a sticker to a photo or video, you will also see a music icon. If you tap on that, you can browse through a library of tracks to find the one that best suits your story. Alternatively, you can also play your chosen track while you capture your video by selecting it before you record and having it play in the background.
How do I put a link in my Instagram story?
It's very easy to add a link to your story. After swiping left to start your story, click on the 'Insert Link' option (the chain icon) at the top of the screen. Click 'URL', type or paste your link hit 'Done' and then share as normal.
Is there a way to find old Instagram stories?
The general understanding is that an Instagram story is gone forever after 24 hours. However, this is not exactly true. Instagram introduced functionality that enabled users to view, download and repost their old stories. All you have to do is click the 'Clock' icon at the top right of your profile. This shows you your old Instagram stories, which you can then download and repost.
Why can't I reply to Instagram Stories?
Whether or not you can reply to an Instagram story depends on the user's settings. It is possible to disable replies completely or to allow replies only from people they follow.
Are Instagram stories viewed in chronological order?
Instagram's algorithm for ranking story views has always been a bit mysterious, as it doesn't always seem to follow a consistent method. The consensus among the tech enthusiasts who have studied it is that the rankings are done as follows:
If your stories usually have 50 views or less, views are ranked chronologically, meaning whoever viewed your story first is at the top of the list.
Once you go above 50 views, a new algorithm kicks in, ranking views based on comments, DMs and so on.
How do you save an Instagram story video?
There are several ways to download and save Instagram videos. You can save them on a third-party app; you can archive them on Instagram and retrieve them via the Clock icon mentioned above; you can download specific stories to your camera roll, save stories in your Highlights.
More Ways that Brands Can Use Stories
Instagram Stories offers a number of possibilities for brands to increase engagement with their audiences. Here are a few creative ways to use the app to boost your interactions with your customers.
Create a quiz
Instagram updated its poll functionality to enable users to create multiple choice quizzes on their stories. The Quiz option is available as a sticker on the upper-right hand corner on your camera interface. You can then create your question and the possible answers and then post your story as normal.
Promote deals and articles
Instagram has a number of great features to help you promote products, deals and articles. There is a countdown feature that enables you to build a sense of urgency and create anticipation for a particular event, such as a product launch. You could use your Highlights section to educate users about products and events. You can also explore live Q&A sessions and giveaways.
Repurposing content
Your Instagram Stories may only be live for 24 hours, but you can extend their lifespan by repurposing them across all your social media accounts. This is a great way to get more out of your content while saving time. You can automatically share each post to Facebook by linking your accounts on the two apps (or you can manually re-share to Facebook if you prefer). You can also download and save your Instagram Stories and reshare them to Pinterest or TikTok.
Create Content your Audience will Screenshot with These Apps
There are several apps you can use to create better content for your Instagram Stories. Try one or more of the following:
#1: Adobe Spark Post
Adobe Spark is an online and mobile design app that allows the user to create eye-catching social graphics and optimize images and videos for social media. You can images, text or graphics in seconds, or apply filters, color palettes and typography styles on the fly.
#2: InShot
InShot makes it easier than ever to create and edit videos and photos. The app features plenty of fun and useful features, including the ability to add music, text, change the speed of your videos, flip and rotate footage, and add filters. It is incredibly easy to use and the results are impressive. The downside is that the free version watermarks all your videos and you need to pay the $2.99 subscription to remove them. However, if you are planning to create a lot of video content, InShot is worth the price and gives you everything you need.
#3: Unfold
Unfold is another great app specifically designed to create exceptional social media content. With this app, you can create unique stories that will stand out on your users' feeds, make a hub page of links to all your social media accounts, including Instagram and others, from which you can publish your customized content effortlessly. The free version enables you to create, customize and share stories, and there is a range of templates, fonts, stickers and more available for once-off purchases or via subscription.
#4: Canva
Canva is a design app that enables users to add layouts, graphics, logos and more to their videos and images. Most of the other apps on this list are great for both personal and business use, while Canva lends itself most effectively to business design functions. You can even build business cards and other branding images on the app.
#5: Over / GoDaddy Studio
Over, now also known as GoDaddy Studio is another great photo editing mobile app. You can create beautifully branded content using the text, color, font and background options available.
#6: Placeit
Placeit offers thousands of ready-to-use templates for you to use in your image and video design. It is simple and incredibly easy to use, and great for putting Instagram posts together on the fly. Its vast library of templates and mockups make creating designs really quick and easy, although more experienced designers may find the app a little basic for their liking.
Conclusion
I hope you learned a few tips and tricks to effectively use Instagram Stories for your business. Stories are definitely something you should consider incorporating into your social media marketing strategy, especially if you are active on Instagram.
---
About the Author – Cheryl Baldwin
Marketing Executive with substantial expertise and knowledge of the digital marketing landscape. Experience in inbound marketing, content marketing, social media, website management, communications, and digital advertising.
This post originally appeared online here: 4 Reasons Businesses Should Use Instagram Stories (wsiworld.com)